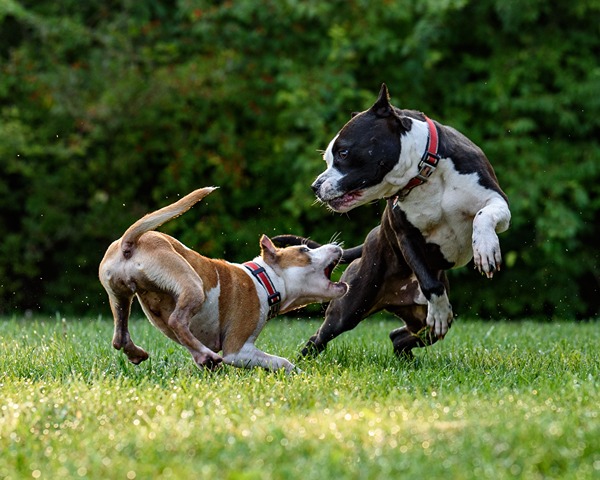 Dog bites can cause significant injuries that often call for ongoing medical treatment. Hospital stays and doctor appointments are costly. These and other expenses can add up quickly if a dog bite has injured you. 
If a dog has bitten you, you may want to know what homeowners insurance or renters insurance for a dog bite injury will cover.
The dog owner's homeowners or renters insurance policy will most likely pay for your medical expenses, lost wages, and pain and suffering, but it depends on the policy. 
If you sustained injuries in a dog attack, the lawyers at Weinberg Law Offices know this can be a stressful and confusing time.
Thus, we've compiled some information on how homeowners insurance and renters insurance handle dog bites. For more information on your specific dog bite claim, don't hesitate to contact us today.
Homeowners Insurance & Dog Bite Coverage
The dog owner's homeowners insurance may cover the expenses you incur from your injuries. Some insurance policies, however, will only pay for injuries caused by a specific dog breed. They may also limit payment to a particular amount that does not cover all of your expenses.
What Are Some Homeowners Insurance Breed Restrictions?
Sometimes, homeowners insurance policies will not cover the cost of a dog bite if the dog owner has a certain breed. This mainly applies to breeds that it considers dangerous. Some breeds that a homeowners insurance policy may not cover include:
Wolf hybrids,
Huskies,
Doberman Pinschers,
Rottweilers,
Mastiffs,
Akitas,
Chow Chows,
Alaskan Malamutes, and
German Shepherds.
These breeds are typically not covered because they tend to produce the highest number of dog bite claims.
If the homeowner owns a dog not covered under their homeowners insurance policy, they may be individually liable to you for all your losses.
If a dog has bitten you and the homeowners insurance does not cover the bite, you may need to file a case against the dog owner to recover your losses.
How Does a Dog's Bite History Affect Insurance Coverage?
Besides breed restrictions, a dog with a history of biting will likely not be covered by the owner's insurance. Even one incident of biting can trigger this denial of coverage. If it is not denied, the owner may face an increase in the cost of their homeowners insurance.
Renters Insurance & Dog Bite Coverage
Usually, renters insurance does help cover injuries from a dog bite. This will depend on the bite history of the dog and its breed.
Some policies do not cover dog bites from specific breeds, such as those typically not covered by homeowners insurance. Other times, renters insurance will cover these breeds, but it will be more expensive for the policyholder. 
Typically, renters insurance for a dog bite only covers bites that occur on the rental property. It does not cover bites off the covered premises or at a dog park.
Coverage, however, does extend to guests at the dog owner's apartment. If a roommate or someone who lives with the dog suffers injuries, renters insurance may not cover this. 
What If Renters Insurance Does Not Cover My Costs?
Renters insurance usually consists of at least $100,000 in personal liability coverage. Personal liability is one part of renters insurance coverage, and it can cover injuries caused by the renter's pet. If the renter buys more coverage, it will cover more damages.
If the dog owner's insurance policy does not cover all of your damages, you may file a dog bite lawsuit. Bringing a lawsuit may help you to receive fair compensation for lost wages, pain and suffering, and medical costs.
How Does This Differ from Pet Insurance?
While renters insurance can cover the cost of injuries, pet insurance helps reduce the cost of veterinary bills. Additionally, landlords tend to make renters insurance mandatory, while pet insurance is not required.
If you get hurt, the dog owner must use the liability coverage on their renters insurance policy. Pet insurance won't do anything to help someone injured by a dog bite.
What Damages Can I Recover from a Dog Bite?
You may be able to receive compensation for various types of losses if you have suffered injuries from a bite. This may consist of payment for medical costs, for instance. Other losses you could recover compensation for include lost wages and pain and suffering.
Medical Expenses
When you sustain a dog bite, you could have exorbitant medical expenses. Medical costs that you may be able to recover include the cost of the following:
Emergency room treatment,
Tetanus shots,
Ambulatory services,
Physical therapy, and
Home modifications.
Ensure you hold on to copies of any medical bills after receiving treatment. These can serve as proof of some of your damages. An attorney can help you compile the documents needed to recover compensation for medical expenses.
Lost Wages
You can also recover lost wages if you have had to miss work. Injury victims might also receive compensation for future lost earning capacity when they file a claim.
Remember to keep copies of employment records to help prove your lost wages and earning capacity. An attorney can help you calculate lost income and future lost wages.
Pain and Suffering
Injury victims might also receive compensation for pain and suffering. Pain and suffering can be physical and mental.
For example, you could recover compensation for the physical pain you experienced during the attack. You might also receive compensation for emotional distress from living with a disfigurement. 
What Should I Do After a Dog Bite?
After a dog bite incident, there are several steps that you can take. Your safety comes first, so call 9-1-1 or seek immediate medical care. A qualified medical professional can ensure you receive the treatment you need.
Plus, getting immediate medical care can help any future claim. If you wait too long for medical care, the other party may use this against you. For instance, the other party might say that your injuries were insignificant. 
You will likely need to file a claim with the homeowners or renters insurance. Gather that information from the dog owner as soon as possible so you can file a timely claim.
Next, contact a dog bite attorney. A dog bite lawyer can help you navigate the insurance claims process. They will also be able to help you to pursue a lawsuit if necessary to recover damages.
How Our Lawyers Can Assist You
At Weinberg Law Offices, we are here to help if you have sustained a dog bite injury in Los Angeles. Our principal attorney, Yoni Weinberg, is fluent in English, Hebrew, and Spanish and is ready to assist you in recovering fair compensation for your dog bite injury.
For more details, call us today at 818-824-6721. Disclaimer: This content should not be construed as legal advice.